The pull-push saw ERIKA: Precision combined with mobility.
As the world's first pull-push saw, the ERIKA has become the epitome of mobile sawing since its introduction. After almost 40 years of experience, the current generation is now endowed with everything that users expect from a modern pull-push saw.
The ERIKA. It's a good thing to carry one with you!
The ERIKA is your reliable partner at any job site. With the fence system that is included in the basic equipment, highest precision transverse, longitudinal and mitre cuts can be made with effortless ease.
The ERIKA: The precision is in the detail.
Countless clever detail solutions make the ERIKA a convenient all-rounder to handle a wide variety of cuts and materials. The ERIKA 85 in particular is ideally suited for solid wood cuts thanks to its large cutting depth and length.
There is still room for more: the optional accessories for the ERIKA.
Even large workpieces can be processed effortlessly with the ERIKA. This is made possible by a range of useful optional accessories. They significantly expand the ERIKA's range of applications.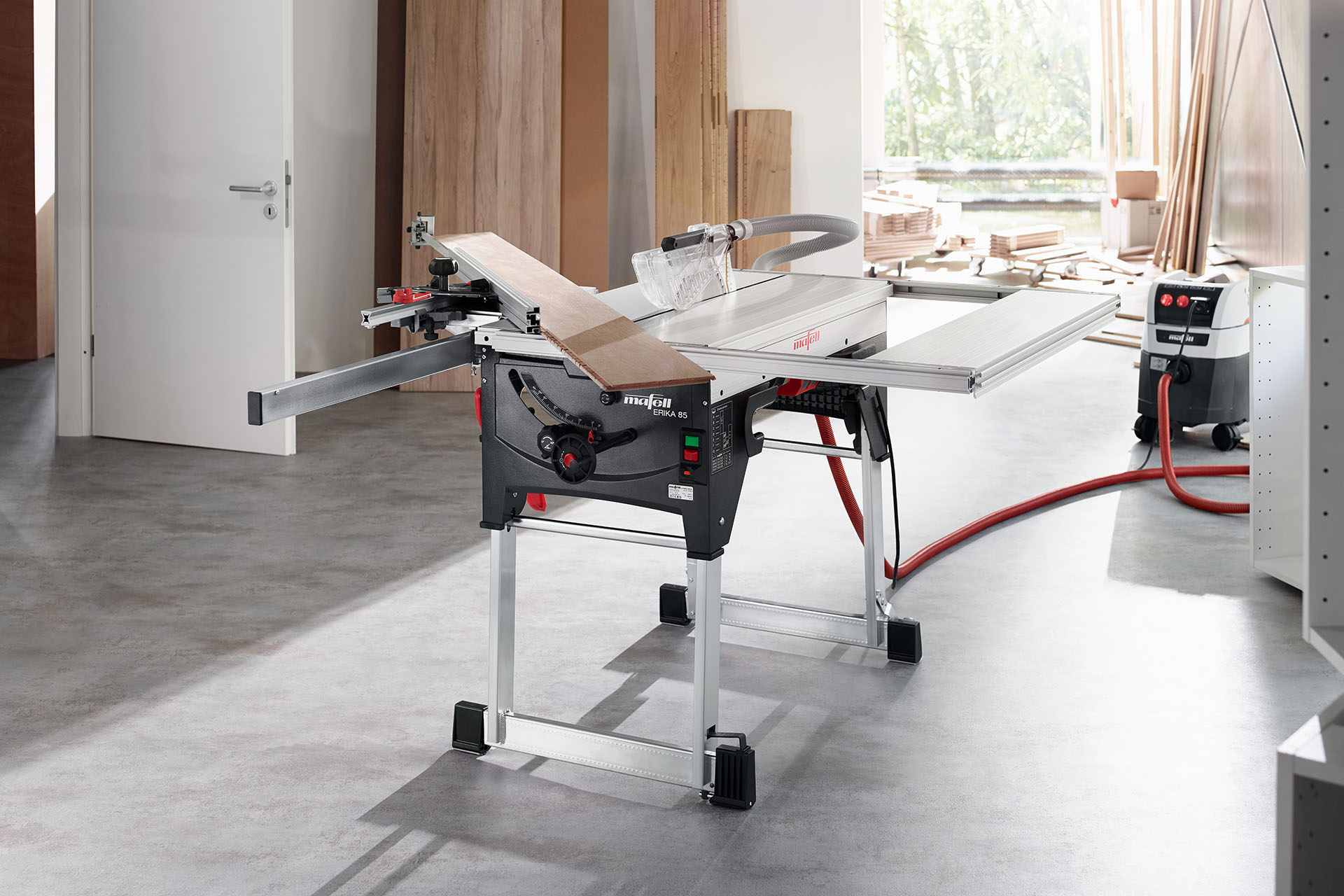 Special accessories/tools
Description

ERIKA 70

Cutting height

-1 – 72 mm

Cutting height at 45°

-1 – 49 mm

Cutting length

340 mm

Nominal power consumption

2.250 W

Tilt range

-3° – 48°

Weight


(with universal guide fence)

37,2 kg

Cutting speed

24,2– 50,7 m/s

Nominal no-load speed

2.050 – 4.300 1/min

Universal motor

230 V/50 Hz

Table top dimensions

525 x 818 mm

Working height with stand

891 mm

Working height without stand

415 mm
Description

ERIKA 85

Cutting height

-1 – 85 mm

Cutting height at 45°

-1 – 59 mm

Cutting length

430mm

Nominal power consumption

2.500W

Tilt range

-3° – 48°

Weight


(with multi-purpose guide fence MFA)

40 kg

Cutting speed

26,8 – 56,3 m/s

Nominal no-load speed

2.050 – 4.300 1/min

Universal motor

230 V/50 Hz

Table top dimensions

525 x 915 mm

Working height with stand

891 mm

Working height without stand

415 mm
Pull-push saw
ERIKA 70
Pull-push saw
ERIKA 85
Universal guide fence
Multi-purpose guide fence MFA
Sliding table
Fence guide extension 1.000 mm
Connecting piece
Telescopic rod
Clamping piece
Extension table ERIKA 70
Extension table ERIKA 85
Supporting rail 1000 mm (39 3/8 in.)
General optional accessories
Universal guide fence
Multi-purpose guide fence MFA
Parallel guide fence
Clamping fence support
Drop stop
Clamping piece
Extension kit with wheels
Chip collecting system Cleanbox
TCT saw blade
TCT saw blade
TCT saw blade
TCT saw blade
TCT saw blade
TCT saw blade
TCT saw blade